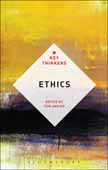 A new book of CPAMP Alumnus Tom Angier is about to come out in November – already his third book! Congratulations.
Ethics: The Key Thinkers "surveys the history of Western moral philosophy, guiding students through the work and ideas of the field's most important figures, from Plato to MacIntyre." The book contains 11 chapters written by various experts and it "explores the contribution of each thinker in turn, narrating how they have changed the shape of ethical theory as a whole. The book also includes guides to the latest reading on each thinker. An ideal resource for
all students of ethics."
For more information see here.